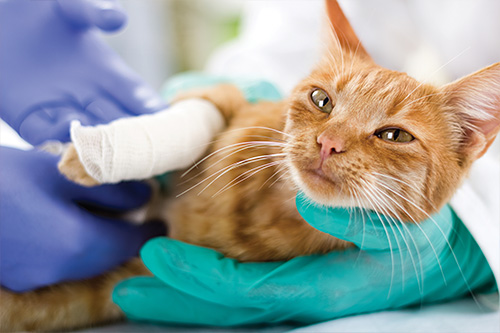 At Huntington Animal Hospital we are equipped with modern surgical equipment and highly trained veterinarians to perform elective, emergency and specialty surgical procedures. 
Some commonly performed surgeries at Huntington Animal Hospital include: 
Ovariohysterectomy (spay)

 

Castration (neuter)

 

Orthopaedic surgery

 

Soft tissue surgery

 

Oral surgery

 

Biopsy

 

Ocular surgery

 

Exploratory surgery

 

Cesarians (c-section)

 
At Huntington Animal Hospital we recognize that leaving your pet for surgery can be very stressful. (We are pet owners too!). It is important to us that you know, we treat your pets as though they were our own. 
To provide exceptional care, we utilize current anesthetic protocols, specialized monitoring equipment and our compassionate and experienced registered veterinary technicians to ensure that your pet is comfortable and safe while in our care. 
YOUR PET'S SURGERY AT HUNTINGTON ANIMAL HOSPITAL
Prior to anesthesia and surgery, your pet receives a full physical exam by one of our veterinarians. Once deemed healthy, your pet will receive a premedication to provide sedation and pre-emptive pain control to ensure a calm and painless experience. Prior to general anesthesia, an intravenous catheter is placed to provide access to your pet's circulatory system. This allows us to administer medications easily and safely and allows us to start intravenous fluids to maintain blood pressure. We use digital monitoring equipment and experienced registered veterinary technicians to monitor your pet's heart rate and rhythm, respiration rate, blood pressure and body temperature, before, during and after surgery. Pain management is essential to your pet's care. At Huntington Animal Hospital we incorporate multimodal analgesia before, during and after your pet's surgery (in other words, we keep your pet pain-free!).  
ENSURING YOUR PET RECOVERS AS COMFORTABLE AS POSSIBLE
It is important for your pet to spend the afternoon with us to ensure a safe and comfortable recovery. We provide a safe and warm area using therapeutic warming devices, cozy blankets, hugs, kisses and undivided attention from all the staff at Huntington Animal Hospital. 
PREPARING YOUR CAT OR DOG FOR SURGERY
Please do not feed your pet after 7 pm the evening prior to surgery. Please do not allow your pet to consume water after 6 am the day of surgery. Please drop your animal off between 8 am and 8:30 am the day of surgery. Please bring a list of medications and supplements your pet is receiving and please inform one of our veterinary technicians. You can leave the rest up to us! If you have any questions prior to your pet's surgery, please do not hesitate to contact us.